Completing the Count – Planners and the U.S. Census!
September 3, 2020 @ 10:00 am

-

11:30 am
The U.S. Census is a critical data tool that provides a resource designed to help community-based, regional, and statewide planning efforts. With the 2020 Census deadline on September 30th, learn what tools you need now to ensure a complete count in your community. This session will explore how planners engaged their communities and what tools they used to increase response rates and participation in Census taking, particularly during a pandemic. The session will also describe APA's Census advocacy efforts at the federal level and opportunities for planners to increase advocacy for the Census and American Community Survey. The interactive panel will provide opportunities to learn from APA, the U.S. Census NY Regional Office, which covers most of Region 1, and a local community's efforts. In less than 35 days, the 2020 census count will be closed. Is everyone in your community counted? Learn how to help increase the response rate, get better data, and enhance your community's ability to have full representation and funding based on a full and accurate Census count. This will be a moderated panel with ample time for a participatory discussion with panelists. Join us on September 3 at 10 for the webinar.
Speakers:
Carly Bari is a Partnership Specialist with the U.S. Census Bureau. In this role she works to promote the 2020 Census, helps motivate people to achieve a complete count, and educates on the importance of an accurate census.
Kelly Lynema is the Senior Planner for the Town of Arlington's Department of Planning and Community Development, where her work focuses on research, data, and community engagement
Kathleen "Kathy" McCabe, FAICP specializes in economic development, community planning, market analysis, and public financing. As principal of McCabe Enterprises, she works on strategic and land use planning, downtown revitalization, and redevelopment
Emily Pasi is the Public Affairs Manager for the American Planning Association's Washington, DC office. Pasi leads APA's Planners' Advocacy Network of engaged planning advocates working to shape federal and state policy outcomes.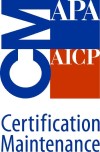 CM |1.5
Register Here by September 1, 2020 5:00 pm A Zoom link will be sent to you on September 2nd.
Attendance is limited to Region I members only.
Events in orange are programs sponsored or co-sponsored by APA-NJ.
Events in blue are provided by other groups we've been asked to share with our membership.
Events in green are for topics regarding hazard mitigation and recovery planning.