The APA New Jersey Community Planning Assistance Program is seeking volunteers for two new Transit Hub Projects in the communities of Fanwood and Hackensack. The projects are being done in partnership with the North Jersey Transportation Planning Authority as part of their Together North Jersey program. This is the second round of Transit Hub Planning projects being done in this partnership. The first round was completed in 2019 and the final products for those are on the chapter' web site at https://njplanning.org/about/community-planning-assistance-program/.
If you have any questions or need more information please contact Tom Schulze at tomschulze@aol.com or 973-634-1697.
If you would like to volunteer please send your resume and the name of the project you are interested in to tomschulze@aol.com.
---
TRANSIT HUB STRATEGIC PLAN – BOUROUGH OF FANWOOD
The transit hub strategic plan will seek to improve pedestrian connections and facility designs across the station area that connect with the borough's thriving cultural, retail and commercial uses and nearby library and the Kuran Cultural Center.

Located in the center of a healthy commercial and retail district along the NJ TRANSIT Raritan Valley Line, the Fanwood station was built in 1874 and is the oldest train station in Union County. With travel times of approximately 30 minutes to Newark Penn Station and limited weekday off-peak direct service travel times of approximately 55 minutes to New York Penn Station, ridership at the station continues to grow (albeit being impacted for the duration of the pandemic) for many local commuters. NJ TRANSIT Bus Route 113 provides daily service between Dunellen and the New York Port Authority Bus Terminal with a stop near the station on South Avenue and Martine Avenue. The area also contains 415 parking spaces in lots surrounding the station that are owned by the borough and NJ TRANSIT and used by commuters from Fanwood and surrounding communities. Over 50% of the parking is used by commuters from outside Fanwood.
Many of the ingredients typically needed to create a vibrant hub around their historic transit station are present in Fanwood. Redevelopment initiatives on surrounding blocks include construction of over 135 units of housing in two residential developments (some with ground floor retail space), and an approved redevelopment plan for the now vacant former site of the A&P supermarket on South Avenue is expected to bring additional new housing to the area. The borough's bustling retail and commercial core along South and Martine Avenues has almost no vacancies and has seen the creation of over new 50 jobs.
Despite this strong success, the borough's retail and commercial districts along South and Martine Avenues, government buildings, library and the historic Patricia Kuran Cultural Arts Center are not well connected due to large parking areas that surround the station, many of which are owned by NJ TRANSIT. This is further compounded by South Avenue, which runs through the center of Fanwood as NJ Route 28, a state highway designed for higher vehicle speeds and traffic volumes out of context with the community's local character and access needs.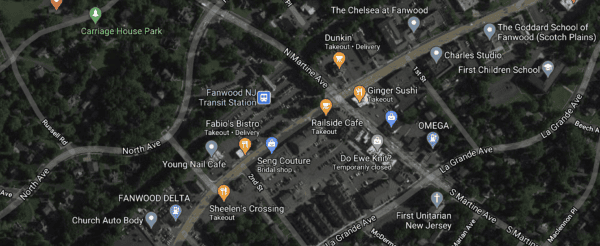 Although Fanwood has already made some progress to address local mobility design needs, in 2015 they received a $1 million TAP grant from NJDOT to build improvements to the street infrastructure on South Avenue between the station and Terrill Road. The improvements include new stamper concrete sidewalks, decorative light fixtures, bus stop shelters and benches, and secured bike racks at the train station. Those improvements are now being designed. The borough would now like to develop a strategic transit hub plan to advance strategies to create a vibrant, multi-use center at the station.
The proposed strategic plan should be developed in partnership with NJDOT and NJ TRANSIT because their facilities at the station play key roles in the area. This would include engaging the New Jersey Department of Transportation and NJ TRANSIT to explore facility designs suited for pedestrian mobility and safety. This would incorporate, at minimum, better adapting crosswalks and slower speeds on NJDOT Route 28, up to potentially having the borough acquire ownership from the state. The borough would also like to investigate methods to reduce the physical separation created by the lots while retaining parking for commuters and visitors that contribute to the station area's vital functions. This will likely involve both aesthetic and functional improvements to the pedestrian bridge that crosses the railroad tracks behind the station.
APA New Jersey is looking to create a team of volunteer planners to undertake this support for Fanwood. As you can see this initiative will benefit from a multi-disciplinary team with some or all of the following skills:
Cultural placemaking
Public space planning
Pedestrian improvements
Community redevelopment
Zoning
Parking management
Economic development
Community outreach
---
TRANSIT HUB PROJECT STRATEGIC PLAN – CITY OF HACKENSACK
Help lead the development of a transit hub strategic plan for the City of Hackensack focused on the Essex Street Train Station on NJ TRANSIT's Pascack Valley Line.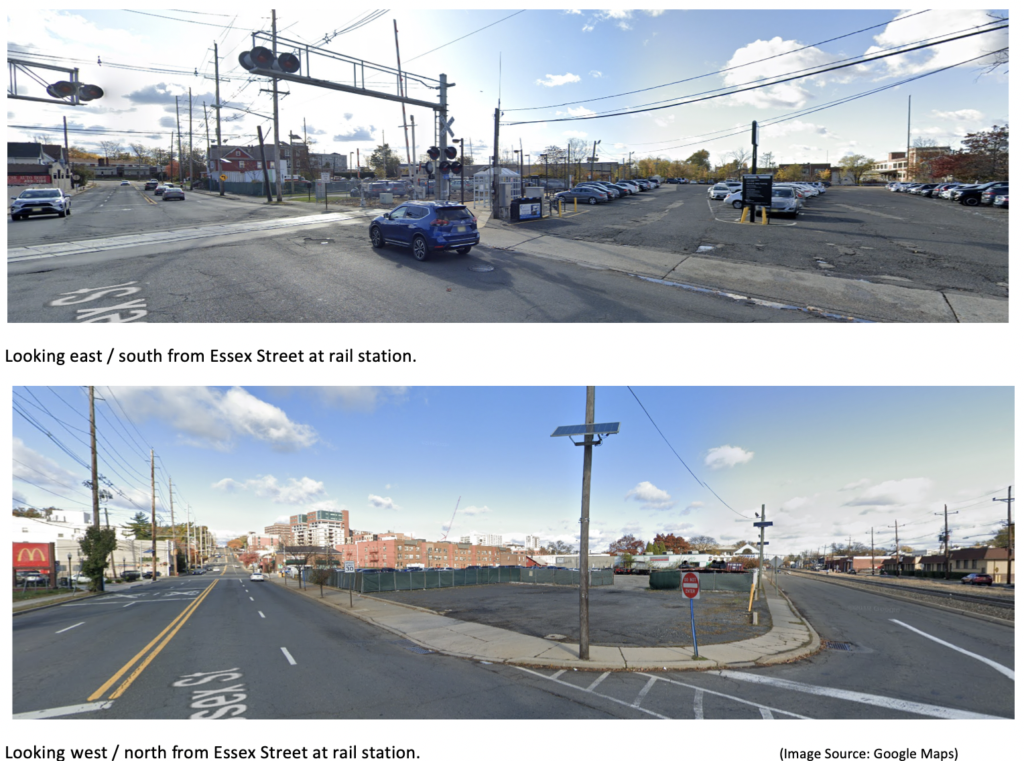 Essex Street Station is located just blocks from the Hackensack University Medical Center, a sprawling medical complex up the hill to the west, and a series of apartment and condominium towers and single-family homes to its north lining Prospect Street and Summit Avenue. To the east, the Bergen County administration buildings and NJ TRANSIT bus terminal are less than ½ mile away near River Street. North of the station includes an older neighborhood of single family and apartment buildings, mixed manufacturing and light industrial uses, the city's high school, and the bustling Main Street redevelopment area all within ¾ of a mile.
Since the former rush-hour-only Pascack Valley Rail Line began around the clock rail service in 2007, travel times as low as 17 minutes to the Secaucus Junction transfer station on the NJ TRANSIT and AMTRAK Northeast Corridor and 35 minutes to New York Penn Station have become a reality. In addition, several NJ TRANSIT local and regional bus lines including the 76, 144, 162, 164, 165, 178, 712 and 772 provide frequent service to the New York Port Authority Bus Terminal, Metlife Stadium and the new American Dream entertainment complex, the City of Newark and communities and towns across central and southern Bergen, eastern Essex and northern Hudson counties. Taken together, these elements offer the city an opportunity to increase employment and development through improved access to northern New Jersey's regional market. In many ways, the station is ideally located to become a gateway access point connecting with the city's important destinations and residential areas.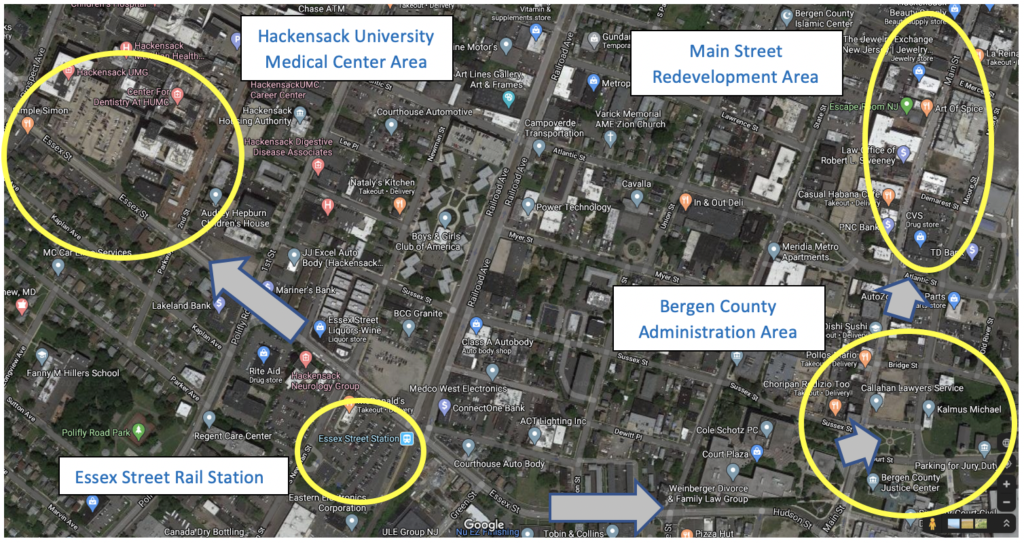 However, the current Essex Street station itself is not presently suited to serve in this role, its pastoral 1893 Victorian architecture railroad station used for years by commuters having burned in 1970. Today, the location is an asphalt park and ride lot, concrete platform and modest plexiglass shelter set amongst commercial and industrial lots. The site is bounded by heavily travelled County Route 56 (Essex Street) on the north side, a busy multi-lane roadway with limited pedestrian crossings, Green Street to the east and South Newman Street to the west. These busy roadways lead to the city's downtown, South Hackensack industrial areas, nearby parking areas for the hospital and provide important access to congested highway ramps serving the I-80 from Polifly Road and NJ Route 17 further west on Essex Street. With a lack of pedestrian scale street lighting at night, commuters using the station almost exclusively use auto access.

The City is currently conducting a re-examination study of its master plan, which will include significant changes in the areas of the Essex Street Station and the Anderson Street Station further north. The primary vison for the Essex Street area is a Life Science Zone that could include science research, innovative technology, and other medical uses that would complement the growing hospital complex. To support this initiative, the City has received an Opportunity Zone Challenge Grant, in partnership with the Hackensack University Medical Center, from the New Jersey Economic Development Authority (NJEDA) to assess the market and potential for creating a Life Science Zone around the station area. To include a fiscal impact analysis, traffic impact analysis, and environmental analysis, this now-underway study will follow-up on a 2006 Bergen County report that identified the feasibility of this area as a Life Science Zone.
The city's Green Street Redevelopment Plan for the site surrounding the station, which is currently a roadway salt storage area for Hackensack, would support modest residential and retail expansion to support housing and office activity in the area. The plan is for a multi-story mixed use building with residential above street level and small retail on the first floor. Additional nearby development includes a recently approved new 210-unit apartment building being built on the former "diner site" at Essex and 1st streets and a $750 million expansion at the hospital. All new residential buildings must comply with Hackensack's affordable housing regulations.
While the area surrounding the station, a mix of newer and aging low-density commercial, industrial, single family and apartment uses and even occasional vacant lots, has many of the physical ingredients that would contribute to a strong transit hub, it lacks a cohesive strategic placemaking vision that incorporates local outreach needed to embrace vibrant community spaces and walkable gateway connections into the city.
APA New Jersey is seeking the services of a volunteer planning team that will eventuate the potential for creating an important new central place in the City of Hackensack (apart from the downtown area that is already significantly being redeveloped) and produce a strategic plan for creating this new center. With a focus on the Life Science Zone mission and the types of new development being proposed and approved for the station area, the team will lead a robust placemaking analysis that should incorporate aggressive public involvement with community stakeholders to consider improvements that ensure equity and that promote equitable involvement in the planning process. Considering the city's traffic circulation analysis, the team should seek to envision a safe and connected design of public spaces including streets, sidewalks, plazas and open spaces linking the area's varied destinations, residential and business communities together, leverage pedestrian access and other non-traditional transportation modes (including micromobility and ride-hailing). As for the station site and transit facilities, the team should identify creative inter-modal improvements and compatible use opportunities that will both encourage and serve regional access to and from Hackensack employment, government services and the city's flourishing redevelopment areas, provide continued resident commuter access and support city water infrastructure needs to make the location a true center of the surrounding community. As appropriate, this work will both be informed by and considered as part of the economic and development analyses being prepared by the city's consultants.
To accomplish this initiative, the APA New Jersey is seeking planners with experience in the following areas:
Community development, especially in older mixed-use communities
Transit hub planning / TOD strategies
Transportation planning (traffic circulation, parking, micromobility and transit shuttles)
Economic development
Strategic planning
Outreach engaging a diverse community of residents, businesses, local officials, non-profits, and potential developers
Asset mapping/GIS
Data analysis
Strong project management, facilitation, and communication skills